Non-Surgical Excellence with Dr. Sal Farruggio
Are you starting to see the unfriendly intrusion of lines and wrinkles on your skin? It's not unusual to feel a pang of unease as these visible signs of aging subtly appear, disrupting the youthful radiance you've cherished.
But you don't have to accept these changes passively. At Advanced Plastic Surgery, we believe in empowering you to feel as vibrant and youthful on the outside as you do on the inside, under the expert care of an experienced, board-certified plastic surgeon. Advanced Plastic Surgery is thrilled to formally introduce our non-surgical services, neuromodulators Botox and Dysport, which are designed to gently and effectively smooth out these imperfections.
Botox and Dysport are FDA-approved treatments that are used worldwide by millions of people to enhance their natural beauty and can help you soften fine lines, smooth wrinkles, and achieve a more refreshed and rejuvenated look.
One of the key advantages of choosing Advanced Plastic Surgery for your non-surgical procedures is the unparalleled level of expertise you'll receive. As a certified plastic surgeon, Dr. Farruggio not only possesses the surgical skills but also has an artistic eye for aesthetic beauty and symmetry. His understanding of facial anatomy is unparalleled, and he provides each client with an individualized approach to ensure optimal, natural-looking results.
Wrinkle Reduction: Time may leave its mark, but that doesn't mean you have to wear it on your face. With Dr. Farruggio's expert use of neuromodulators, you can significantly reduce the appearance of crow's feet, forehead lines, and the '11's - those stubborn vertical lines between your eyebrows. Each treatment is tailored to your unique needs, delivering smooth, rejuvenated skin that lets your inner vitality shine through.
Masseter Botox (Jawline): Enhance your facial profile with a more defined and streamlined jawline. Botox treatment in the masseter muscle is a non-surgical method to subtly reshape the lower face. This can result in a slimmer, more contoured jawline that perfectly frames your face.
Lip Flip: Achieve a fuller, poutier lip appearance without the need for fillers. The Botox lip flip is a simple procedure that relaxes the muscle around your lips, allowing the upper lip to subtly flip outward. This creates a natural-looking enhancement to your smile, showcasing fuller lips with every grin.
Chin: Refine and reshape the look of your chin without invasive surgery. Botox can be used to smooth out a pebbled chin, reduce the appearance of a deep mental crease, and provide a more balanced aesthetic to your facial features. Trust in the precision and artistry of Dr. Farruggio to help you achieve the perfect harmony and balance in your facial profile.
From our first consultation through to your final treatment, Dr. Sal Farruggio and our professional team will work with you to achieve your desired results. Our commitment to personalized care ensures that your treatment plan is tailored specifically for you, so you look and feel your absolute best. Contact us today to begin your journey to a more youthful, radiant you.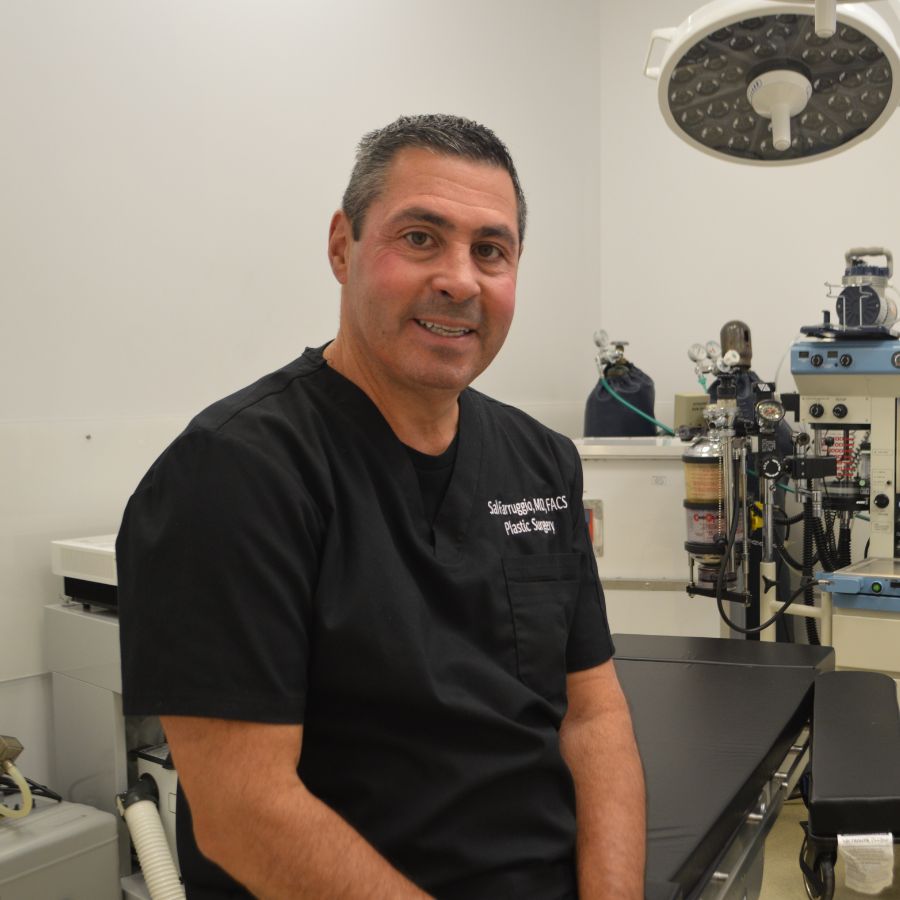 Dr. Sal believes in providing objective information and honest opinions so you can make informed decisions. Contact Dr. Sal for a free consultation.

Here are some of the frequently asked questions we have answered for our patients over the years:
Botox and Dysport are both FDA-approved neuromodulators used to reduce wrinkles and fine lines. While they both contain Botulinum toxin type A, they have slightly different formulations that can make one more suitable than the other depending on the patient's individual needs. Dr. Farruggio will help you decide which one is best for you during your consultation.
Most patients report feeling a slight pinch or discomfort during the injection, but this is typically minimal and brief. Dr. Farruggio uses very fine needles for the procedure, and if necessary, a topical anesthetic can be applied to ensure your comfort during the treatment.
Results from Botox and Dysport treatments can typically be seen within 3-5 days, but it may take up to two weeks for the full effect to become visible. The results generally last between 3-6 months, varying depending on the individual's muscle activity and metabolism.
Side effects from Botox and Dysport are generally minimal and temporary. Common side effects include slight redness, swelling at the injection site, or minor bruising. These usually subside within a few hours to a few days. More serious side effects are rare but can include temporary facial weakness or drooping.
Yes, most patients return to their usual activities immediately following the procedure. However, it's recommended to avoid strenuous physical activity, rubbing the treated area, or lying flat for at least 4 hours after the treatment to prevent the product from shifting.
Contact us below to ask a question or request a consultation. One of our team members will be back in touch with you within one business day. If you require more immediate attention, please call us at 914-723-6300.
Disclaimer: By submitting this form you allow Sal A. Farruggio, MD FACS to provide you with more marketing information using texting, email or phone contact.
2 Overhill Rd., Suite 430
Scarsdale, NY 10583