Improve or reduce the appearance of scars.
There are plenty of sayings about battle scars, but in many cases, scars are not worn with pride. In fact, rarely do we encounter patients more appreciative than those upon whom we have made a problematic scar inconspicuous. If you have a scar you would like to eliminate, this is something that can often be accomplished by a talented plastic surgeon.
What is the meaning of scar revision?
Scar revision involves the removal of a scar by excision and immediate reconstruction with plastic surgery techniques. Dr. Farruggio can confidently predict when the resulting excision scar will be significantly better than existing scars acquired from trauma, acne, or other surgeries.
If lesions are removed in a thorough and accurate way, there is less likelihood of a recurrence or missed tumor. If a scar is excised in a subtle and delicate manner, there is less stimulation for the body to respond with new scarring and inflammation.
Dr. Farruggio will assess your scarring and provide a thorough explanation of what can be done and what you can expect.
We like to say that the credo of all doctors is "do no harm," but the credo of the plastic surgeon is "cause no scar."
Scar revisions can be highly successful. Although they usually cannot completely eliminate an existing scar, they can improve it significantly and minimize the appearance. In many cases, the scar becomes invisible to the eye at a normal range or becomes easy to cover with regular makeup.
How long does revision take?
The healing process of scar revision depends on the type of surgery used to improve the scar and the size of the area. It is not a major surgery, and you should be free from the initial effects, including any swelling or discomfort, within a week or two. More importantly, you will want to allow your scar to heal and treat it with the recommended topical products, which could take up to a year. Over time, your scar will heal and fade.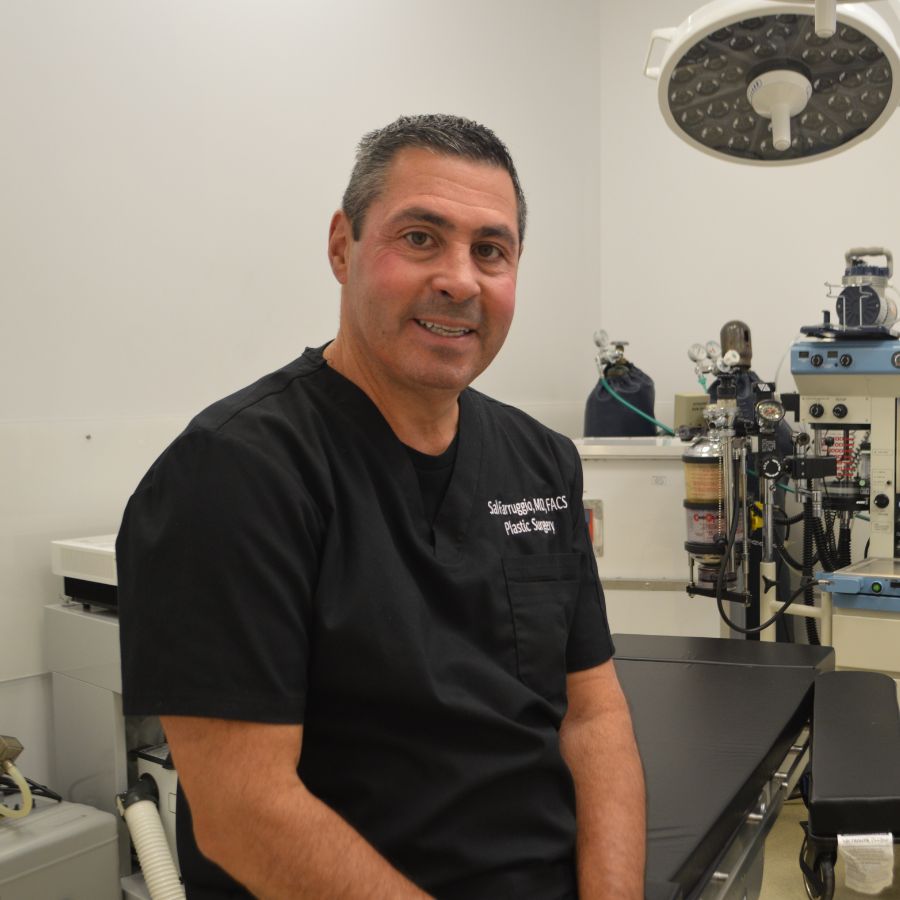 Dr. Sal believes in providing objective information and honest opinions so you can make informed decisions. Contact Dr. Sal for a free consultation.

Here are some of the frequently asked questions we have answered for our patients over the years:
Scar revision is the procedure of removing an old scar through surgery then re-suturing the area in a less harmful manner to minimize the appearance of the scar. There are multiple surgical methods I can use to accomplish this. As a plastic surgeon, I have been trained to leave the most minimal scar possible during any surgery. This same technique can be used to surgically remove existing scars.
Scar revision can be performed on a scar of any age. With a very new scar, you may not yet know how it will heal, and I may recommend the use of topical treatments to help reduce the appearance first. When a scar has healed, approximately 6 months to a year, we can determine whether additional improvement is possible through surgery – simply whether the new scar could be smaller than the existing scar.
Contact us below to ask a question or request a consultation. One of our team members will be back in touch with you within one business day. If you require more immediate attention, please call us at 914-723-6300.
Disclaimer: By submitting this form you allow Sal A. Farruggio, MD FACS to provide you with more marketing information using texting, email or phone contact.
2 Overhill Rd., Suite 430
Scarsdale, NY 10583